Oil/Air Cooling Systems: AKG-Line-T
What do we offer?
Our AKG-Line-T standard series offers industrial high-performance cooling systems made up of aluminium, that convince with reliable product quality at competitive prices. These units are manufactured according to German engineering and are available in various designs for mobile and stationary use. The assemblies include universally applicable complete systems that comply with European standards and are also suitable for extremely harsh operating conditions. The fans are driven bythree-phase (TA/TLA series), direct current (TD/TLD series), or hydraulic motors (TH/TLH series), depending on the requirements.
The knowledge and experience gained so far from the toughest practical applications have been incorporated into the product development of the AKG-Line-T. The cooling units are manufactured with the highest quality standards in our own AKG factories and is extensively tested in the company's R&D center.
This ensures that our customers always receive the best possible solution.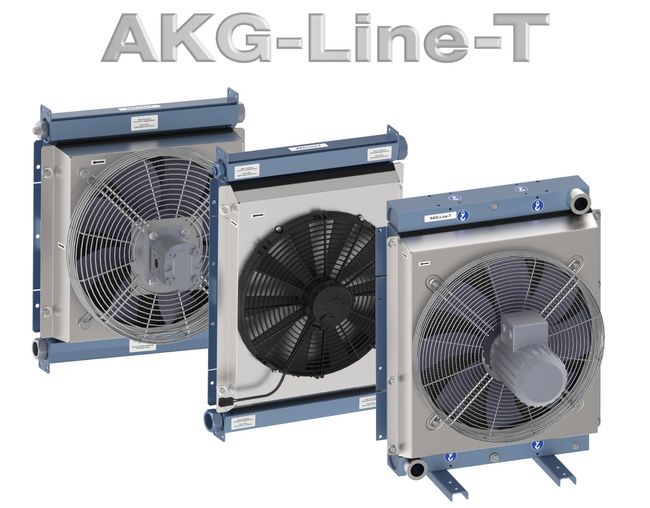 AKG CoolEngineer
With our design program AKG CoolEngineer, you can select the perfect cooler for your needs. You can easily configure the cooler and adapt it to your specific requirements by selecting the appropriate series and other criteria such as design, performance, and size.
More information about AKG CoolEngineer can be found at the end of the website.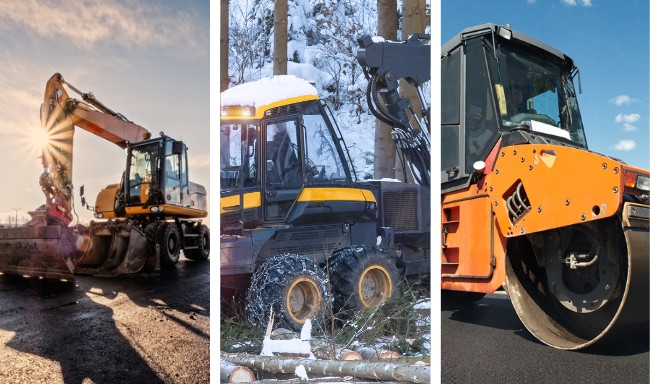 The Right Solution for Every Cooling Application!
Oil is indispensable in modern hydraulic power units and vehicles with hydraulic and transmission systems. It serves to lubricate, clean and cool the different systems. During working, these systems generates a lot of heat that must be cooled. Oil coolers help to dissipate the heat and thus ensure reliable and durable functioning of the system. As the systems operate at high working pressure, the oil coolers must be robust enough to withstand high such high operating pressures. With us, you will find the right solution for every cooling application.
Applications
The AKG-Line-T offers three different series: TA, TH, and TD.
The TA series has an AC motor and is mainly used in stationary applications. The TH series has a hydraulic motor and can be used in various applications. The TD series has a DC fan and is suitable for mobile applications.
Cooling of all hydraulic and lubricating oil applications as well as coolant.
Use in stationary and mobile areas:
Hydraulic units
Construction machinery
Agricultural / Forestry machinery
Municipal vehicles
Machine tools
Compressors
Water cooling in industrial applications and many other areas.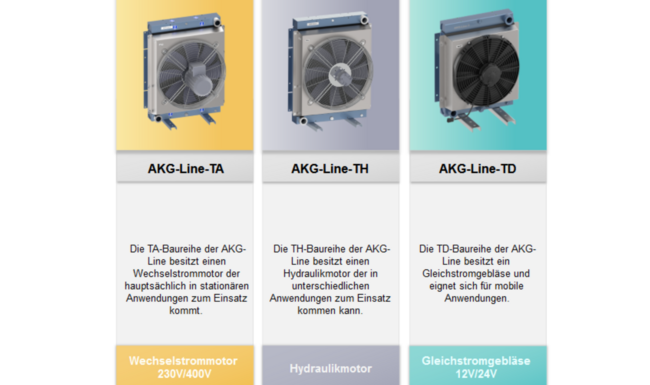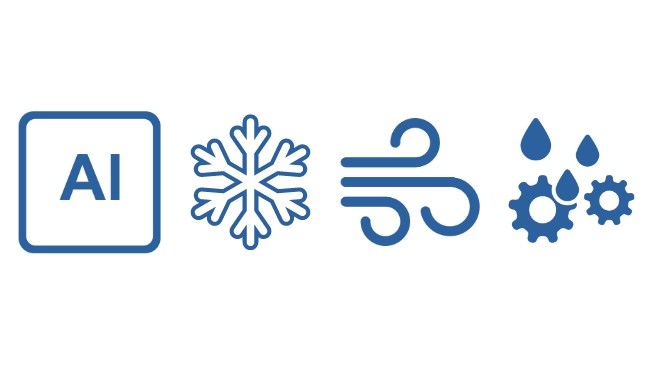 High-performance cooling systems made up of Aluminium in robust plate/bar design capable of withstanding operating pressures up to a maximum of 26 bar, as well as weight-reduced (-30%) tube/fin construction capable of withstanding operating pressures up to a maximum of 16 bar
The heat to be dissipated is transferred from the medium to be cooled to the ambient air
Universally applicable in hydraulic oil, gearbox oil, engine oil, lubricating oil, and coolant circuits
For cooling mineral oil, synthetic oil, bio-oil, HFA, -B, -C, and -D liquids, coolant water with at least 50% antifreeze and corrosion inhibitors, other media upon request
The AKG Plate/bar Cooler
The AKG Plate/bar Cooler is considered a pioneer in the heat exchanger market and continues to enjoy worldwide recognition and appreciation . This air-cooled, brazed aluminum cooler features extreme durability and robust construction, making it ideal for the most demanding applications.
Excellent cooling performance with a wide range of turbulators
Heavy duty construction for industrial-proven reliability
High pressure and temperature capability under extreme operating conditions
Air fin options include rectangular, triangular, and corrugated fin options from 6.4 fpi to 11.3 fpi
Flexible product portfolio with a wide range of sizes
Cooling Experts - for more than 100 years!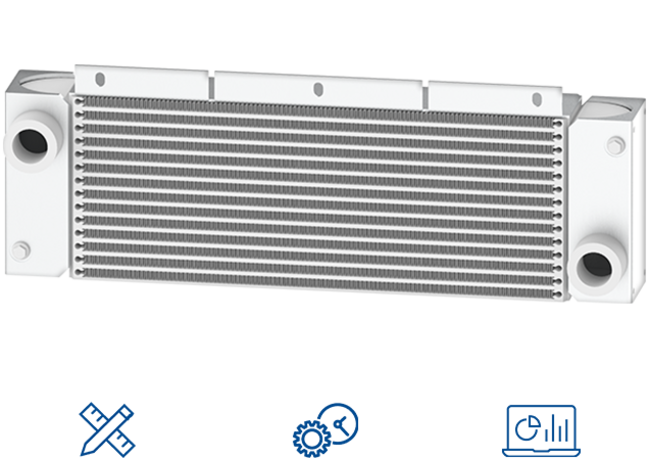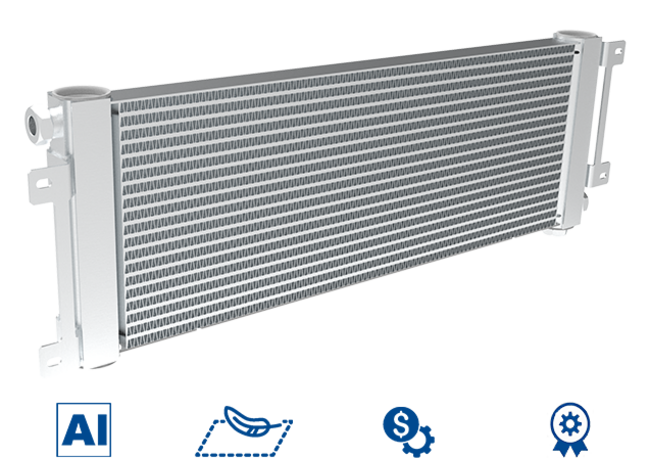 AKG LightWeight Oil Cooler (LCO)
The AKG LightWeight Oil Cooler (LCO) is an air-cooled, one-piece brazed aluminum cooler that is not welded. The entire cooler is brazed as a single unit, allowing for short manufacturing lead time.
100% aluminum construction for lightweight and robust design
Few production processes and shorter manufacturing times
Configurable components with minimal tooling requirements
Suitable for multi-plane design & side-by-side solutions
Innovative manufacturing keeps costs low and quality high
Fully brazed without welding
AKG Cooling Air Fins
Our coolers and heat exchangers enable high cooling performance with low susceptibility to contamination. This is particularly important for use in harsh environments such as agriculture or in the industry. Our cooling air fins withstand these conditions and ensure reliable cooling of your equipment.
Our cooling air fins are designed for extremely contamination-insensitive applications, but with cooling performance comparable to a contamination-prone high-performance fin.
The long-life aluminum material offers up to 25 percent longer life.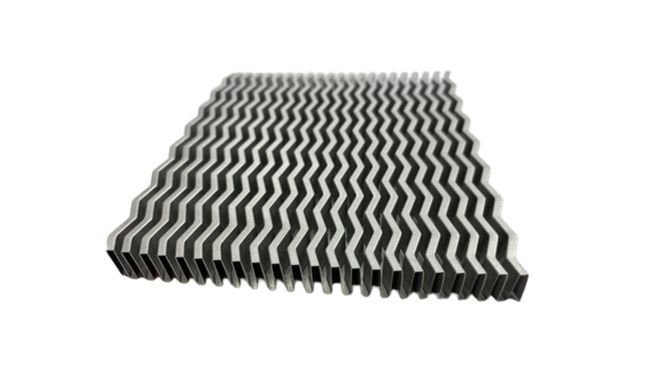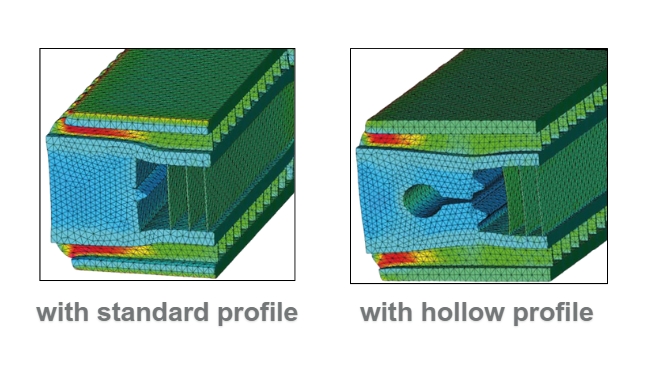 AKG Hollow Profile Features
The flexible AKG hollow profile is used in AKG line coolers to reduce local stress peaks. The strength and service life of heat exchangers are significantly increased.
Reduction of material stresses:
Strength calculations show that maximum stresses are reduced by a factor of 2 with the hollow profile
Increase in life:
Extensive bench testing has shown that service life increases by a factor of 3-5
AKG Line-T Advantages
Highly flexible systems for immediate use (plug and play)
Compact in size with robust design, proven for tough practical use
Best cooling results through extensive research and development
High quality through professional engineering and in-house production
Short-term availability through stock holding of systems and components
Equipped as standard with AKG Double Life hollow profile to reduce local stress peaks and increase life (factor 3-5)
Use of Long-Life Aluminium to increase life (25%)
Use of extremely contamination-resistant cooling air fins without loss of performance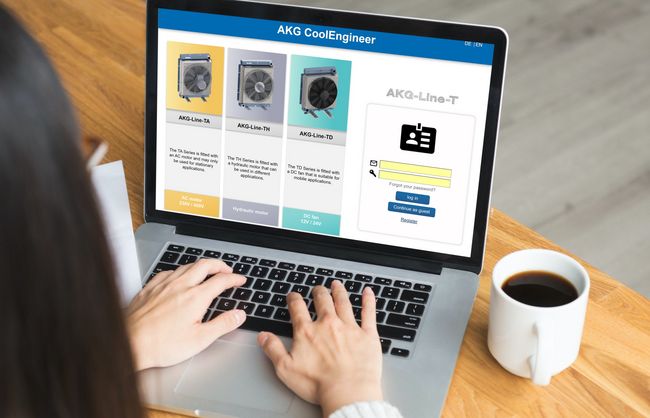 The AKG Configurator
Our AKG CoolEngineer is your tool to find the perfect cooler for your needs. With simple steps, you can configure your cooler and customize it to your specific requirements. Start by selecting the appropriate series and immediately receive a list of available coolers. Then refine your search with additional criteria: design, performance, and size. Our calculation tool will then show you exactly the coolers that meet your requirements. Save time and effort in searching for the perfect cooler and use the AKG CoolEngineer!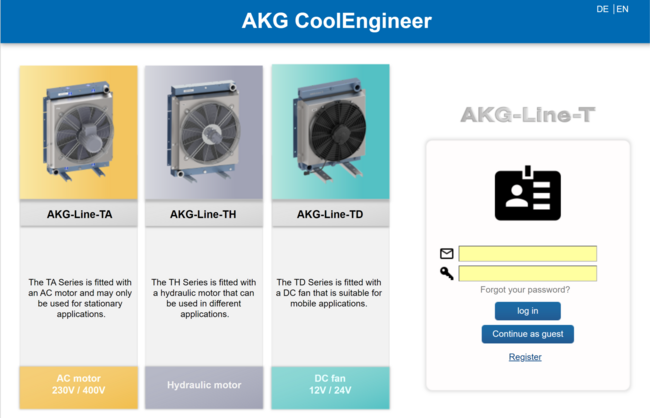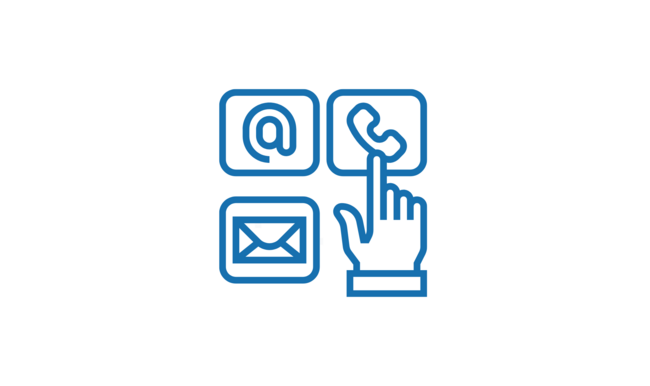 Get in touch
AKG Thermotechnik International
GmbH & Co. KG
Am Hohlen Weg 31
D-34369 Hofgeismar • Germany
Phone: +49 (0) 5671 - 8 83-0
Email:standardkühler@akg-gruppe.de