07.04.2022
AKG participates in a research project for climate-neutral flying
On the path to climate-neutral flight – the Federal Ministry for Economic Affairs and Climate Action is funding a project to further develop hydrogen fuel cell technology. Ten partners from science and industry are jointly promoting flying with hydrogen.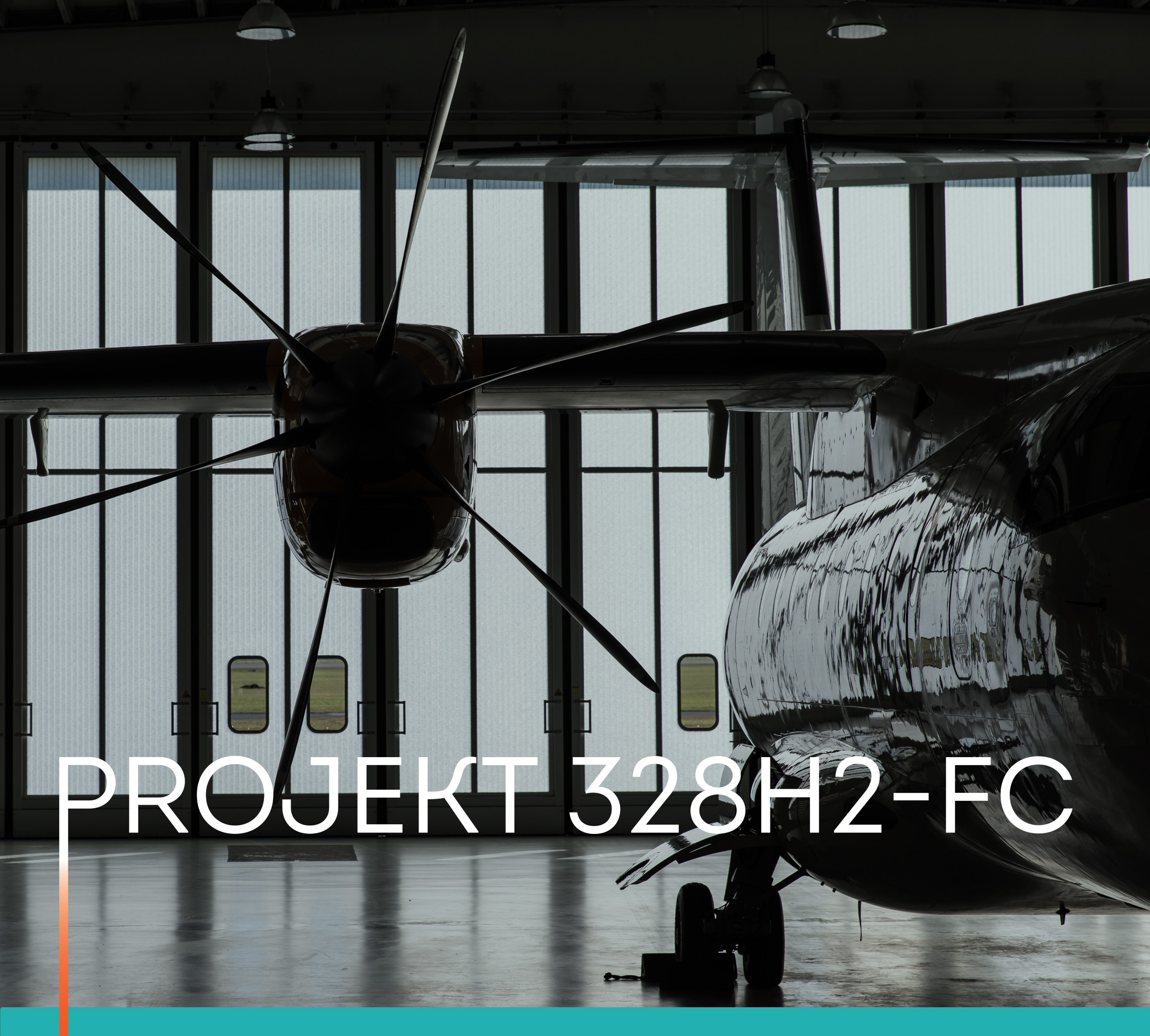 An important step towards climate-neutral passenger aircraft.
Promising hydrogen fuel cell system in the megawatt range is being developed and will be demonstrated in flight by 2025.
Ten partners from science and industry are jointly promoting flying with hydrogen.
A Dornier 328 will become a demonstration aircraft for climate-neutral flights in the EASA large aircraft class ('CS25').
Participation of the DLR spin-off H2FLY strengthens DLR's strategic position in technology transfer.
The future climate-neutral air transport system needs carbon-dioxide-free propulsion technologies. For regional aircraft, hydrogen-electric propulsion systems with hydrogen fuel cell technology offer a promising option. This is now receiving a strong boost from the '328H2-FC' project. Led by the German Aerospace Center (Deutsches Zentrum für Luft- und Raumfahrt; DLR) in cooperation with H2FLY, Deutsche Aircraft, Diehl Aviation and six other partners, the project is the first to develop a fuel cell system with a power output of one and a half megawatts for use in flight. The project opens up a technological perspective for future regional aircraft with 40 seats. The Federal Ministry for Economic Affairs and Climate Action (Bundesministerium für Wirtschaft und Klimaschutz; BMWK) presented the funding notification at the beginning of 2022. The BMWK is funding the realisation of the first megawatt hydrogen fuel cell system for air transport with approximately 30 million euros.
Within the scope of the partnership, a Dornier 328 aircraft will be converted to be used for hydrogen-electric passenger flights for the first time. This involves the electrification of the powertrain and the integration of a fuel cell system, including a cooling system and a liquid hydrogen tank. The '328H2-FC' project paves the way for proving the potential of hydrogen for climate-neutral air transport. The unique hybrid-electric powered demonstration aircraft for EASA's large aircraft class ('CS25') is scheduled to take off for the first time in 2025. Before that, tests of the fuel cell system that is to be developed are planned, using a new ground-based test facility at DLR.
In cruise flight, the use of a hydrogen fuel cell energy system enables the aircraft to operate without emitting carbon dioxide, which means that a large part of the flight distance can be covered in a completely climate-neutral manner. For the energy-intensive take-off, a gas turbine will provide additional thrust as part of the testing of the hybrid-electric concept.
AKG is developing the cooling component system for fuel cell-based aviation propulsion in the course of the project. One focus is on the optimal compromise between minimized weight and maximum performance without any reduction in reliability, using the D328 H2 FC passenger aircraft as an example. The thermal management is to be designed in such a way that the components of the fuel cell drive train can be operated within the permissible temperature and pressure limits at every operating point. Through the project, AKG and its project partners hope to achieve a detailed understanding of the system components (here: heat exchanger) and its physical interaction within the overall system.
The project thrives on the cooperation between DLR, H2FLY, Deutsche Aircraft and Diehl Aviation (incl. Diehl Aerospace). Other project partners are AKG Group, Bauhaus Luftfahrt e.V., GE Aviation, HS Elektronik GmbH, Industrieanlagen-Betriebsgesellschaft mbH and Premium Aerotec GmbH. The Federal Ministry for Economic Affairs and Climate Action is providing funding for the 328H2-FC project within the framework of the aeronautics research programme (LuFo VI-2). The joint project leader is DLR. The project builds on the predecessor projects 328eHY-LAB and 328eHY-TECH (LuFo VI-1) led by Deutsche Aircraft.
DLR at a glance
DLR is the Federal Republic of Germany's research centre for aeronautics and space. We conduct research and development activities in the fields of aeronautics, space, energy, transport, security and digitalisation. The German Space Agency at DLR plans and implements the national space programme on behalf of the federal government. Two DLR project management agencies oversee funding programmes and support knowledge transfer.
Climate, mobility and technology are changing globally. DLR uses the expertise of its 55 research institutes and facilities to develop solutions to these challenges. Our 10,000 employees (as of February 2021) share a mission – to explore Earth and space and develop technologies for a sustainable future. In doing so, DLR contributes to strengthening Germany's position as a prime location for research and industry.
For more information, please visit: www.DLR.de
About H2FLY
Founded in 2014 by five engineers from the German Aerospace Center in Stuttgart and the University of Ulm, H2FLY GmbH is paving the way to emission-free, sustainable aviation. The company develops hydrogen-electric propulsion systems for aircraft and is a global leader in the development and testing of such systems. The HY4, the world's first hydrogen-electric passenger aircraft, took off in 2016, demonstrating both the feasibility and potential of this technology for the aviation of the future. H2FLY has a powerful network of partners in industry and science, and is currently working to scale up its technology with the aid of German and European funding. In just a few years, hydrogen-electric aircraft will be able to transport 40 passengers over distances of up to 2000 kilometres (1240 miles). H2FLY successfully closed a major funding round in April 2021, securing its growth and enabling the company to begin scaling its technology and solving the related challenges.
For more information, please visit: www.H2FLY.de
About Deutsche Aircraft
Founded on the proud heritage of Dornier and Germany's reputation for engineering design, quality and innovation, Deutsche Aircraft is the new purpose-driven German OEM. As Dornier 328 type certificate holder, Deutsche Aircraft will enable future development of the Do328 platform, and exploit future technologies and capabilities to produce a more efficient, economic and environmentally friendly aircraft, and to drive the future of aviation towards climate-neutral flight. Together with the participation of the German Government, Deutsche Aircraft is leading the way in a new era of a cleaner, safer and more efficient aviation.
For more information, please visit: www.deutscheaircraft.com
About Diehl Aviation
Diehl Aviation is one of the largest aviation suppliers in Germany and also participates in the field of hydrogen-based power generation systems. The system supplier is included in the 328H2-FC research project with different focus points. These entail solutions for hydrogen distribution and high-performance cooling for the hydrogen-based energy system. They also include highly reliable control of all system components and power switching in the megawatt class. Diehl Aviation - including Diehl Aerospace (a joint venture with Thales) - is a division of Diehl Stiftung & Co. KG and combines all aviation activities of Diehl Group under one roof. The company is a leading systems supplier of aircraft systems and cabin solutions. Diehl Aviation currently has more than 4,000 employees. Its clients include leading aircraft manufacturers, manufacturers of eVTOL aircraft, and airlines and operators of commercial and business aircraft worldwide.
For more information, please visit: www.diehl.com/aviation
About AKG Group
With 11 production plants worldwide and approximately 2,750 employees, the AKG Group develops and produces customized high-performance heat exchangers, coolers and complete cooling modules for various applications. For more than 100 years, AKG heat exchangers have been a synonym for innovative solutions.
AKG Thermotechnik GmbH & Co. KG supplies cooling systems for the aviation industry. The focus is on components for aircraft, engines and on-board systems from general aviation to wide body passenger aircraft. The product range also includes coolers for aircraft with battery and fuel cell drives.
For more information, please visit: www.akg-group.com/markets/aviation
Press contacts:
H2FLY
Hartmut Schultz
+49 89 99249620
hs@schultz-kommunikation.com
Deutsche Aircraft
pressoffice@DeutscheAircraft.com
DLR
Falk Dambowsky
+49 2203 601 3959
Falk.dambowsky@dlr.de
Diehl Aviation
Guido van Geenen
+49 69 5805 1724
guido.vangeenen@diehl.com
AKG Group
Hanem Cihan-Matull
+49 5671 883 1475
hanem.cihan-matull@akg-gruppe.de